QINGSHOW : Awakening the Eight Immortals in China
by Gene Jeffers
Published the 10 september 2019
A swirl of copper and light, the Qing Show Theatre rises from Starlight Island in Qingdao, China. Built for one purpose and one purpose only, its 1,500 seats focus guests' attention on a 50-meter-wide (165 foot) stage backed by a 15-meter-high (50 foot) projection screen. Here, for the next 10 years, a full spectrum of performers, lights, water features, lasers and special effects will daily bring to life the action-packed story, "Eight Immortals Crossing the Sea."
The "Eight Immortals" show is the keystone attraction of a tourism strategy for the Oriental Movie Metropolis, a 400-hectare (1,000 acre) development of Sunac China Holdings Ltd. It is a massive complex of sound stages, facilities and resort properties intended to become the new Hollywood of Asia. The complex includes 30 film stages equipped to the highest standards for domestic and international productions. To date more than 100 full-length films have been produced on the property, including "The Great Wall" and "Pacific Rim: Uprising." Eight billion Euros have been invested to construct the metropolis and to attract filmmakers and tourists to Qingdao City, a major commercial port on the Yellow Sea with 10 million inhabitants that was, until now, perhaps best known as the birthplace of Tsingtao Beer.
The eight immortal beings whose adventures are recounted in this epic tale represent archetypes within traditional Chinese society, each applying their unique strength as they work together to cross the sea. Along the way they encounter armies loyal to dragons and a variety of obstacles and must work together to succeed in their quest. It is an ancient saga of success and setback, of combat and collaboration.
As old as the story itself is, the seeds for this new and immersive presentation go back only a few decades to a young dreamer from faraway Belgium. As a five-year-old, the show's creative director, Luc Petit, built miniature circuses filled with characters and stories, movement and color. Even then, he fantasized about creating spectacles and events that would touch audiences, awaken their dreams.
As time passed and his interest grew, Petit pursued training in film and production at the Institut des arts de diffusion (IAD) in Louvain-La-Neuve. Launching an audiovisual media career in the 1990s, he soon found himself working with bigger names and larger audiences. Musician Jean-Michel Jarre asked him to shoot the making of a mega-concert for 2 million spectators at La Défense in Paris. He directed actor Gerard Depardieu in a public service campaign on Down syndrome. He collaborated for ten years with Franco Dragone, another Belgium-based director, staging Cirque du Soleil and other spectaculars in America, Europe and Macau. Every experience, every production helped to hone and focus his aesthetic vision and directorial skillset.
"I have always dreamed of creating dreams," Mr. Petit explains. "I love starting from nothing and producing a show with a team of people who grab onto my ideas and overcome every obstacle to see them through. I hunger for that moment when my team builds everything I have dreamed, and we give it to the public."
In 2010, Mr. Petit formed Luc Petit CREATION (LPC) to offer clients design and implementation of tailor-made shows and events. Since the formation of LPC, the team has created a number of memorable productions, including "Decrocher la lune VI" (literally "Unhook the moon," metaphorically "Reach for the stars"), which received a TEA Thea Award in 2017; "Peter Pan: The Never-ending Story," a reinvention of that favorite story delivered to audiences around the world; "Inferno," a reenactment of the Battle of Waterloo. Together with his team, Mr. Petit has never backed down from a difficult concept or a demanding schedule.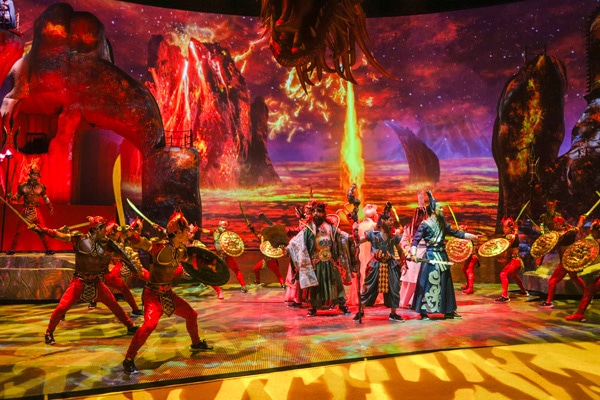 The Qing Show Theater in Qingdao, China is home for the next ten years to the show "Eight Immortals Crossing the Sea," produced by Belgium-based Luc Petit Creation.
Four years ago, LPC won the bid to interpret the ancient Chinese tale of "Eight Immortals Crossing the Sea" within a semi-aquatic venue that would be built to his specifications. Firmly anchored in the poetics of Western spectacle, Mr. Petit had to take a dive deep into Chinese culture and a production paradigm that would overlay the ephemeral with timelessness, the ancient with the modern. He emphasizes the responsibilities he has when interpreting a classic, revered tale for an audience primarily not of his own culture and background. "This was a crazy challenge with a crazy deadline," he acknowledges.
"Because the Oriental Movie Metropolis is a place for making films, we needed to create a cinematic-style spectacle," Mr. Petit explains. "Not a circus spectacle or a dance spectacle, nor one about magic or combat. It is all of those and more. Everything was storyboarded like a movie even though we were creating a live performance that would be performed daily for years."
Perhaps more daunting for Mr. Petit was the audience's familiarity with and reverence for the characters and their story. "We were addressing a very Chinese story," he notes. "Each character has been created within Chinese legends; each represents a typical role within Chinese society."
Grateful the client chose LPC for the project, he adds, "We were very honored that they entrusted this story to a foreigner. It is not my culture, so I had to pay very close attention to the symbolic and mythic details. I had to protect the Chinese sensitivities and, at the same time, transport the audience somewhere high, somewhere new." Everything held meaning: color palettes and costumes; the meanings and subtexts of wind, water, fire and earth; the style of portraying each character as part of a whole and yet uniquely distinct.
"I could not present this story the way a Chinese director would," he says. "It was very rewarding to see the Chinese appreciate how well we explained their story. Because the story of the Eight Immortals is so well known, we were constrained by its familiarity. My role as creative director was at times more like a conductor working with a known piece. Yes, we could add and adapt scenes, but the sequences and characters were fixed." This sequential specificity is different from most other live action shows. "In a Cirque du Soleil show, you can move scenes within the sequence, but not in this case. We could change the technical presentation, but Scene Eight could not replace Scene Three, for example," he notes.
Mr. Petit's concept of what a story is and what it should be about had to be adjusted to this culture. "The Eight Immortals is not like a classic European fairy tale or a Disney story. Yes, there are action and conflict. In this story, as the immortals cross the sea, they awaken dragons. There is a lot of action and many battles, but they are gentle battles, never nasty, never violent. Not at all like in Western stories. In China, for example, dragons are good, they are not evil."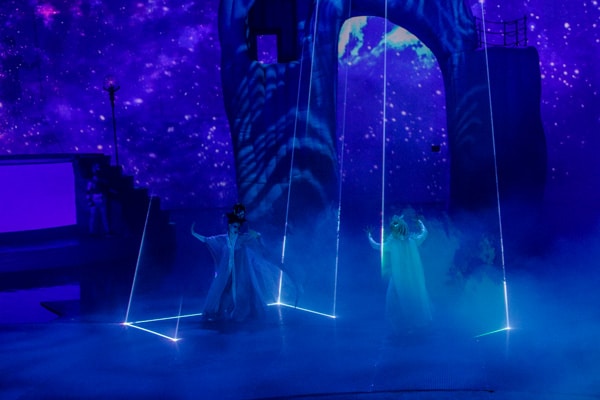 Eight Immortals relies on a talented cast, along with detailed sets and the latest in technology.
Every aspect of the project required the LPC team to adapt and improvise. "Much as in the tale itself, we had our own 'dragons' to overcome," Mr. Petit remarks. "Working with a very different culture is quite complicated. We were confronted with very different mindsets and ways of working together. At times we were like the characters in the show, running into obstacles that had to be resolved, battling to make sure we delivered this project on time. It's true, we were working in parallel with the story we were building."
"First, we had to design the theater and stage on which the show would take place. We had to work from a show concept with water and changing scenic elements, develop a platform that had not existed before," he explains. "This is one of the few theaters with a purpose-built permanent set. Only this show can run in this theater."
From the start, challenges delayed the construction of the 220 million Euro venue. "Our show production team was amazing," Mr. Petit recalls. "They installed and rehearsed in hardhats for months alongside construction workers in the unfinished theater. Fortunately, every scene was storyboarded, so we were able to adapt and proceed out of sequence, using what was available day by day."
The LPC team also faced cultural and language challenges, worked through translators to develop a common vocabulary for choreography routines, fight sequences and lighting changes. They built an understanding of the role colors play in Chinese iconography as each of the eight characters came with a unique palette, each dragon world had its own hue.
"Everyone worried we would not make the opening date," recalls Mr. Petit. "But I told them if we work together, we can make it happen. We've put on major shows in the past with as little as three days on site. We have to work that same way to make this show happen."
On the opening night, water screens and projection mapping flexed colors and shapes, dragons, and laser battles. Radiocontrolled turtle and crane drones ghosted above the audience. Warriors and acrobats flew across the stage with stretched bungees in the service of advancing the eight immortals along their storied course across the sea — all to the delight of the audience.
There were elements of the unexpected in store for the LPC team. "Sunac originally said the show would be for adults," says Mr. Petit. While most younger Chinese were aware of the eight immortals, relatively few would know many details of their story. "I designed a program I would enjoy watching as an adult," he adds, "and so it was a surprise when we saw at the first performances that at least half the audience were children. Most heartening was to see how the show brought generations together, to watch Chinese parents explain details about the eight immortals to their children."
LPC's job of designing and creating the Qing Show being complete, the team has now stepped away. "We produced the show and have transferred it to a Chinese team to run for its duration," Mr. Petit says. "We trained them, explained how to run the show, and now it is up to them to operate it. This is a good thing. They will learn so much from the experience of operating a complex, demanding spectacle. For us, it is on to the next crazy challenge."
That project will no doubt raise more obstacles and dragons to be overcome. The team is ready. It is no accident the photo of the LPC team on their website has them all looking up, reaching for the stars, searching for innovative ways to unhook the moon and immerse a new audience in their creative director's next dream.